Mission
FASHION SCHOOL AND HIGH TAILORING COURSES
The goal of our fashion school courses is to train, highly qualified professional figures in the tailoring sector. Particular attention will be given to craftsmanship details.

We follow our students step by step in the training course. We use an exclusive method of theoretical and practical approach. Our objective is to make them independent professionals. They will be able to adopt the methods and processes embraced by Milan and Italy, resources of international fashion.

Open 1

You can start the course at any time; registration is open all year around. Our courses are individual and tailor-made around your interests.
su misura 1

A personalized course timetable will be scheduled according to your availability.
Esclusivo 1

We give preference to a limited number of students in order to follow better the personal and professional growth of each student. Our students will be trained professionally and become passionate and competent craftsmen.
Il Teatro della Moda is not a simple school where you can study and learn only theoretical notions.
In our school you have the opportunity to learn a real craft.
The 80% of the scheduled hours in our study programs are dedicated to the practice. The 20% are committed to the study of carefully selected theoretical concepts. The purpose is to build the necessary cultural background. Students will carry out the profession of the Tailor Couturier or the Costume Designer in full autonomy.
The environment of our School is serious and professional, but at the same time familiar and joyful. The Masters carefully follow everyone's growth by transmitting enthusiasm and passion for this fascinating and stimulating world. The high level of attention in teaching is possible because the access of the students to classes is limited.
Becoming a Tailor-Couturier means to undertake a satisfying and never boring career. The effort and sacrifices typical of a "manual" work are constantly rewarded. The results achieved from time to time, never equal to themselves, instead they are continuously enhanced!
If you want to become a fashion professional, come to meet us. You will be able to work in a tailoring company or embark on a career as a freelancer. You will perceive the quality of our teaching, taking the advantage of a free trial lesson.
OUR COURSES
Corsi professionali
Tailoring courses with a minimum duration of 400 hours which provide for a final exam for the professional certificate
specializzazione
Courses which vary from embroidery to wedding dresses, suitable for those who have already undertaken studies in fashion sector and want to deepen our method.
The Short Courses
Short courses, starting from 30 hours, dedicated to cutting and sewing and tailoring adaptations. This course is suitable for those who have little time and want to focus on their hobby.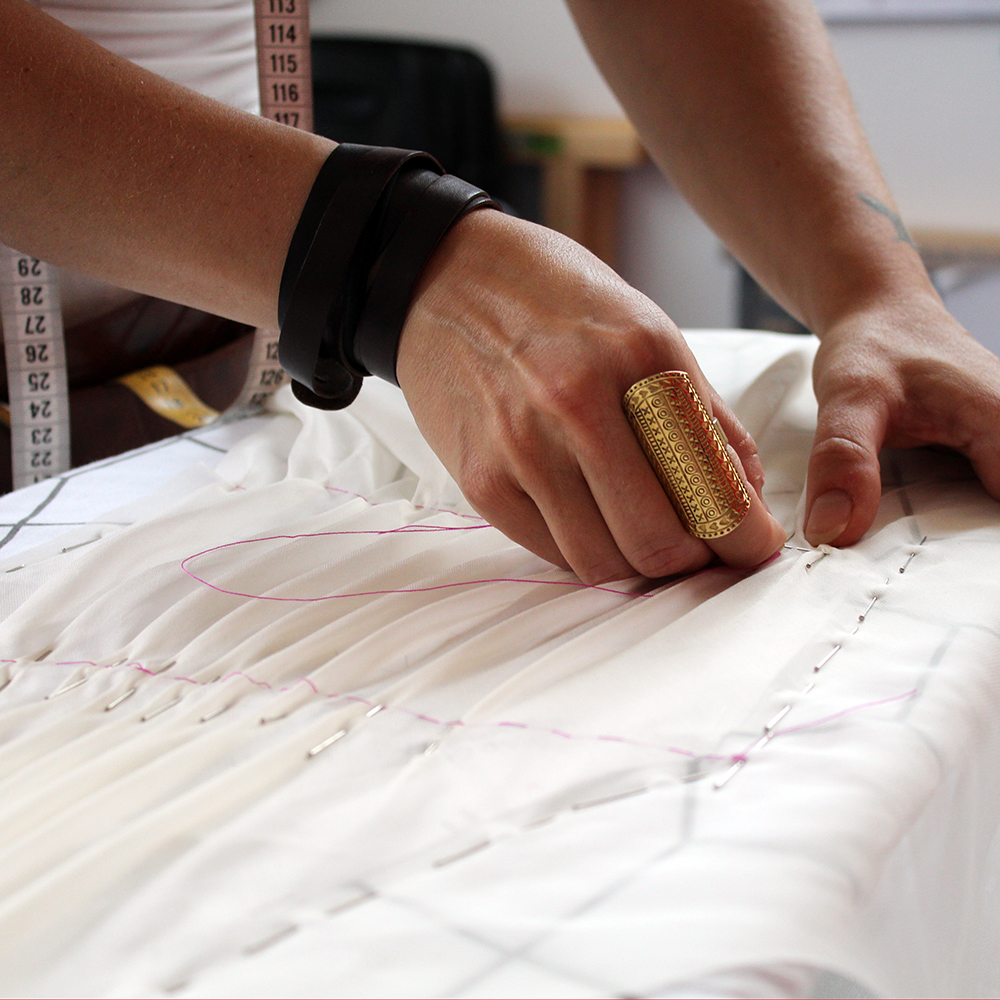 Reviews
Vuoi imparare l'Alta Sartoria Italiana??!! Il luogo giusto è questo, ho imparato quello che volevo!!
Rafael V.
Il posto migliore dove puoi realizzare il tuo sogno, dopo avere provato altre scuole posso dire che il Teatro della Moda è il posto giusto, insegnanti bravi, ambiente molto accogliente. Sono molto felice di avere trovato la scuola giusta, grazieeeee 😀😀😀😀
Carola B.
Mi sono iscritta al corso di sartoria italiana perché cercando online sembrava la scuola più prominente e, dopo aver visitato la sede mi sono convinta. La scuola ti permette di costruire un percorso in base ai tuoi interessi, fissando il calendario secondo le proprie esigenze. La mia esperienza finora è molto positiva… l'ambiente è  stimolante e divertente.
Fiammetta D.
Quando ho iniziato la scuola avevo paura che non fosse ciò che cercavo, più vado avanti sono soddisfatta e felice! Bravissimi insegnanti, capaci, pronti a dare nuovi stimoli. Grazie di tutto
Antonella I.
Ho iniziato dopo un'esperienza in un'altra scuola, dalla quale ero uscita senza avere basi concrete. Ho scoperto la bellezza e la soddisfazione di vedere ciò che esiste nei miei pensieri realizzarsi, prima in un disegno, poi in un cartamodello ed infine in stoffa. Un ottimo punto di partenza per il lavoro in futuro. Devo ringraziare di cuore tutto lo staff per non accontentarsi mai di vedere un capo semplicemente realizzato, ma puntando sempre a vederlo realizzato al meglio.
Caterina C.
Stilista Donna
La passione e l'amore per la sartoria hanno vinto sul fattore tempo, grazie ad un percorso modellato sulle mie esigenze personali, uno dei loro punti di forza.
Incuriosita e inesperta, ho iniziato con un corso Base di Taglio e Cucito per progredire in uno di Modellistica Sartoriale.
Hanno stimolato la mia creatività, fantasia e ricercatezza del dettaglio e del particolare.
L'anima di questa scuola/laboratorio è proprio questo, insegnare a differenziarsi dal Fashion System esprimendo la propria personalità grazie alla progettazione e realizzazione di capi unici e originali di Alta Sartoria con il supporto anche di corsi di ricamo e un'accurata scelta dei tessuti.
Pilar G.
Modellista Sartoriale
Ho iniziato la mia esperienza presso questa scuola un anno fa, da inesperta, ed ora grazie alla loro professionalità e con loro metodi d'insegnamento mi hanno portato a realizzare capi su misura di alta qualità! Vi ringrazio ancora di cuore continuerò il mio percorso con gioia sperando di acquisire sempre più esperienza!
Nadia M.
Basi del Taglio e Cucito
Sono partita da un corso base e son passata poi a quello di costumista teatrale.

Studiando la storia del teatro e del costume e la modellistica dei vari periodi, ho realizzato prototipi per ogni epoca, mettendoci un tocco personale.

Nel mentre ho studiato stili più moderni e partecipato a progetti, che mi hanno fatto apprezzare la sartoria e il lavoro su misura, spaziare con la fantasia e imparare nuove tecniche.
Eleonora I.
Costumista Teatrale
Grazie al loro metodo ho affinato le mie conoscenze e ad oggi posso dire di essere convinta di voler lavorare nel settore, stare dietro le quinte, dove avviene la magia e nascono le idee.

La consiglio quindi a chi ha voglia di imparare un vero mestiere, un metodo artigianale, pratico e concreto, in un clima mai competitivo.
Emanuela I.
Stilista Donna/Baby
Ho trovato un corso dove, partendo dall'idea, raggiungo il confezionamento del capo. Ho creduto sempre di più nelle mie capacità, nel bello dell'essere liberamente creativa, sentendomi sostenuta dallo staff e dalle colleghe. L'ambiente è sempre sereno, gli insegnanti e collaboratori valorizzano le capacità degli allievi.
Viola F.
Modellista Sartoriale
OPENING TIME
We are open again and our lessons have been resumed since May 25, 2020

We receive by appointment only

From Monday to Friday from 10:00 to 19:00
On Saturday from 10:00 to 13:00
CONTACTS
Via Ilarione Rancati 24/A, 20127, Milan